Shop and Compare Loans & Credit Card Rates
Find the right offer for you in just minutes!
Get Started
PrimeRates Lender Partner Network

LightStream

Prosper

Upgrade

BestEgg

SoFi

Payoff

LendingPoint

FreedomPlus

OneMain

Avant

LendingClub

LightStream

Prosper

Upgrade

BestEgg

SoFi

Payoff

LendingPoint

FreedomPlus

OneMain

Avant

LendingClub

Marcus
Personal Loans
PrimeRates provides access to personalized loan offers through our simple and quick pre-qualification application. Once you're pre-qualified, you can select the best offer for you and finalize the loan application with the lender.
Apply in minutesSimple pre-qual application in less than 1 minute. 

Select your loan offerChoose the offer that best fits your needs.

Receive funds quicklyFinalize your loan offer, get approved, and receive funds in at little as one business day.

 
Check My Rate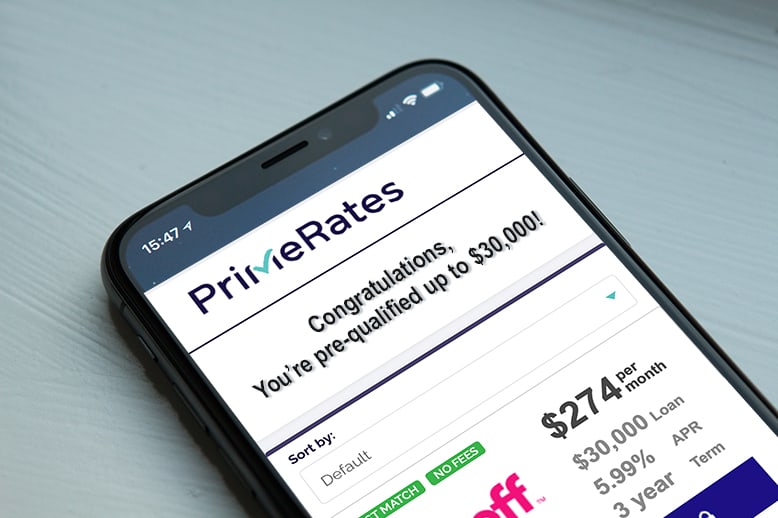 Business Loans
Creating capital for your business is the gateway to expansion and success. If you do not have enough cash available, using a business loan can be a smart way to invest in the growth of your business.
Get Started

Credit Cards
Whether you're just starting out with no credit, bad credit, rebuilding credit, have fair credit, or looking for the card that earns better rewards, finding the right card can be a challenge. We've partnered with leading card issuers to make it easy to compare credit card rates and benefits all in one place such as Visa and Mastercard. And we do our best to keep our information accurate and up to date.
Find My Offer
What does PrimeRates do?
Comparing rates and fees on loans and credit cards can be frustrating. How can you be sure you'll get the rate, payments, or terms are shown? PrimeRates is changing that. We'll help you prequalify with our lender partners, ensuring that the rates you see are the rates you're more likely to get.
Return to Top
Personal Loans
Business Loans
Credit Cards
Home Equity Loans
Debt Consolidation Loans
Home Improvement Loans
Auto Repair Loans
Medical Loans
Wondering how to get a credit card for bad credit? A number of card issuers are offering great options. Here's how to land a card that fits your situation.
Read More →
Fortunately, if you want to apply for a personal loan, it's typically less of a hassle than qualifying for other types of loans. Here's what you'll need.
Read More →
You may know that lenders often "pull your credit" when considering you as an applicant. But did you know that there are two types of credit inquiries? Here's the difference between a soft credit inquiry and a hard credit inquiry.
Read More →
Current leads the way in bank cards for teens, and it is dedicated to helping families with teenagers. Here are some of the pros and cons of using a Current account to help kids manage money.
Read More →
While there's no foolproof way to guarantee your personal loan application will be excepted, there are some things you can do to bump up your odds. Use these to tips to help land the loan that you want and avoid personal loan denial.
Read More →
For years, card skimming has been among the favorite tools of credit and debit card scammers. But those scammers may have a new high-tech enemy known as the Skim Reaper.
Read More →